Actuaries are experts in risk management. They are very well respected professionals, similar to doctors and lawyers. Every area of business is subject to risks so an actuarial career offers many options. What really sets actuaries apart, is their natural mathematical, economic and statistical awareness, and their ability to apply this to real business issues.
What do actuaries do?
Actuaries provide commercial, financial and prudential advice on the management of a business's assets and liabilities, especially where long term management and planning are critical to any business venture. They also advise on social and public interest issues.
By joining the IFoA, members are making a personal commitment to high standards of education, competence and integrity.
Being an actuary means that you can use your mathematical skills and be well rewarded in your career path
Working as an actuary gives you the opportunity to earn a great salary, as well as having support from your employer throughout your career. At each stage in your career, as you work through your exams, as you qualify, as you move into a more senior role, your salary and responsibility will increase.
Working as an actuary means having highly valued mathematical skills and expertise
Actuaries come from different academic backgrounds but share a love of maths even if they haven't achieved a degree in maths. When you train as an actuary you'll learn how to analyse data, evaluate financial risks, and communicate clearly through exams and work-based training.
An actuarial career can be one of the most diverse, exciting and rewarding in the world
Members of the Institute and Faculty of Actuaries (IFoA) are part of a globally recognised profession and have internationally-recognised qualifications.
If you'd like to receive more localised information, please follow us on WeChat (ID: IFoAOfficial) and Weibo.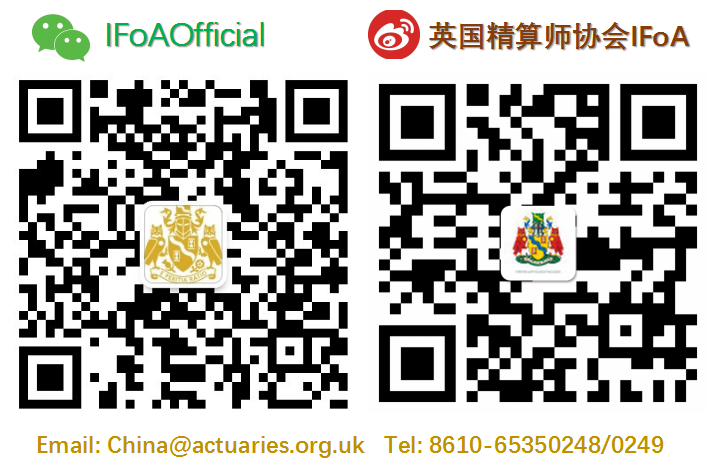 Contact Details
Careers Department
7th Floor Holborn Gate - 326-330 High Holborn - London - WC1V 7PP - U.K
+44 (0) 20 7632 2137